DrunknDragon
Regular price
Sale price
$62.99
Unit price
per
Sale
Sold out
CURRENTLY, SOLD-OUT! AVAILABLE AT FESTIVALS & FAIRES ONLY. PLEASE CHECK BACK HERE SOON FOR MORE GREAT DRUNK'N DRAGON PRODUCTS.
The sporran is Scottish Gaelic and Irish for "purse", a traditional part of male Scottish Highland dress. This pouch performs the same function as pockets on the pocketless kilt. Made of leather or fur, the ornamentation of the sporran is chosen to complement the formality of dress worn with it. Sporrans can be used to store coins, fire-making paraphernalia, as well as oats and onions!
Try keeping the ladies hands off of these beautifully designed purses, err, I mean sporrans.  Drunk'n Dragon has outdone themselves with the intricate details that are burnished into these leather bags.
Made of 100% leather.
Share
View full details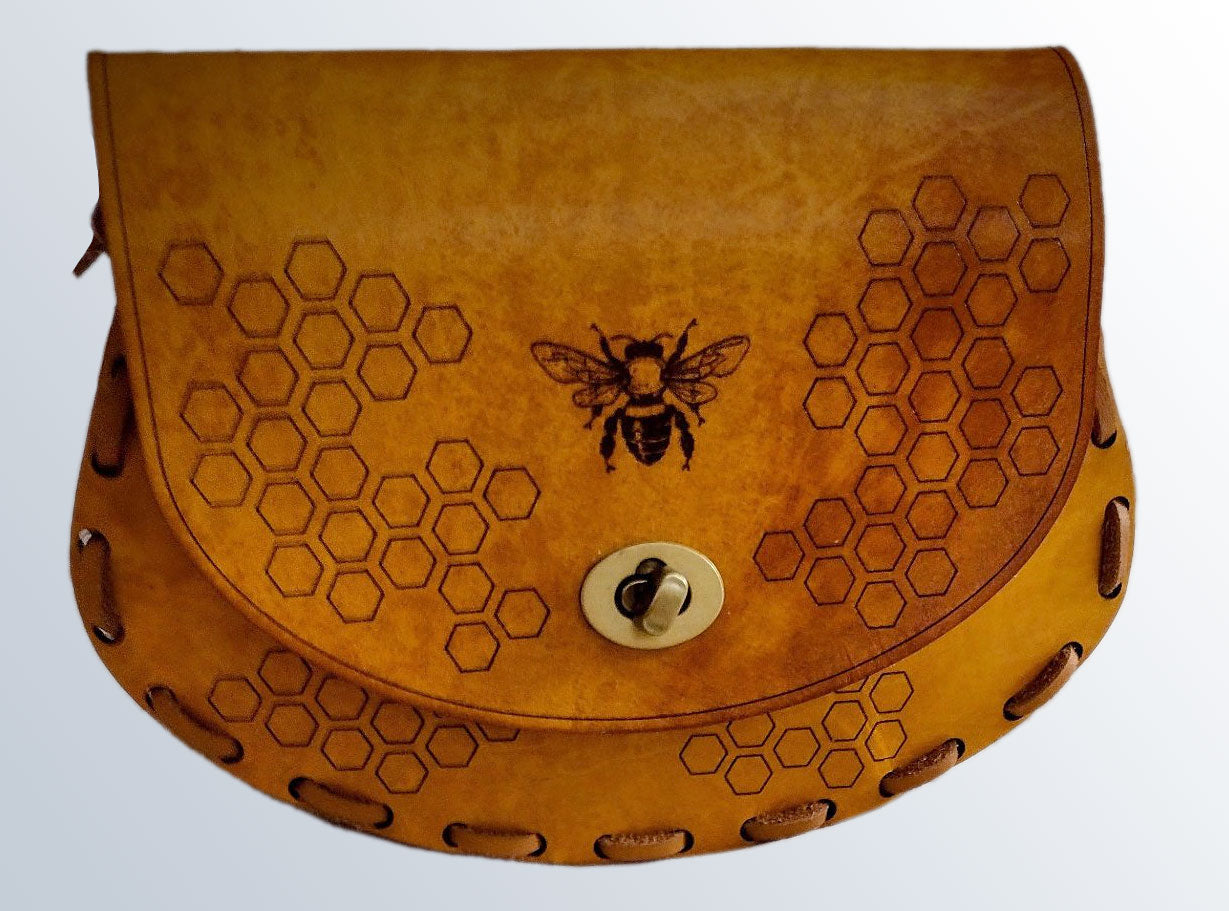 Caring for your handmade leathergoods
Veg Tan Leather

Drunk'n Dragon crafts all their leathergoods using 'Veg Tan' leather. Vegetable tanned leather refers to the tannage, or method of tanning the cowhide into leather. It's called 'vegetable' because of the natural tannins used in the tanning process like tree bark. Vegetable tanning or veg tan as it's sometimes called, is one of the oldest methods of tanning known to man. It has literally been around for centuries.

What makes vegetable tanning so unique is it can be used to make thicker leather and results in more body and character - perfect for bag making. Vegetable tanned leather also tends to age better and develops a rich patina over time. And it has that awesome classic leather smell.
Cleaning Your Leathergood

Remove the leathergood from any object it may be surrounding or attached to. Eliminate any crusty mud and dirt by brushing away loose debris with a soft cloth or stiff brush.

Apply water and mild soap to the stain: Mix up a solution of warm water and dish soap in a small bowl. With a light touch, make a circular motion over the spot, gently.

With a fresh cloth and clean water, gently rinse the soapy mixture from the leathergood.
Designed & Crafted in the U.S.A.
Our leather goods are made with 100% genuine 'Veg Tan' leather and are inspected for quality in each step of production.
Please be aware that leather is a natural material. Slight discoloration, scratches, or change in texture may be visible. These small inconsistencies should not be considered a defect but rather add to the beauty and uniqueness of your handmade item.
Keep in mind that before an item is made, each hide and bolt is inspected. Our goal is to provide the best looking piece of leather for a unique gift you will treasure for years to come.